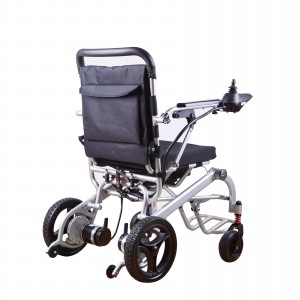 Powered wheelchair industry from yesterday to tomorrow
For many, a wheelchair is an essential part of day-to-day life. Without it, they lose their independence, stability, and means to get out and about in the community.
The wheelchair industry is one that has long played a significant role in aiding individuals but is yet to be talked about much in the mainstream media. The powered wheelchair industry is growing at an astonishing rate; expected to reach $3.1 billion in 2022.
Today's powered wheelchair industry
Powered wheelchairs are, essentially, motorized versions of manual wheelchairs. They have greatly improved independence for many people with disabilities, offering the ability to travel long distances and so much more.
Powerchairs are continuing to develop, and have come a long way since their first appearance. Technological advances have led to different positions of wheels – such as rear-wheel and mid-wheel-powered wheelchairs – for better stability on outdoor terrain.
Similarly, early powered wheelchairs were bulky, slow, and clumsy to handle. They were also challenged by hills which made traveling on public transport difficult.
However, they have now evolved so that they are fully integrated, smooth, powerful, and packed full of options for greater comfort. They do provide that much-needed independence for those with severe disabilities, as well as people requiring assistance when traveling outdoors.
An answer to injuries from manual chair use
In the past, over 70% of manual wheelchair users have been injured. This is, typically, due to manual wheelchairs relying on the muscles in the front shoulder and chest. If you happen to use your manual wheelchair every day, those muscles are, eventually, going to become overworked and feel the strain.
Often, those in wheelchairs that require manual effort also suffer from trapped fingers.
Powered wheelchairs have helped overcome all of these issues, with additional tech also leading to an improved life. For instance, the customizable features for powerchairs enable better posture.
Users who suffer from muscular dystrophy, cerebral palsy, and any spinal cord injury will likely find the gravity-assisted positioning of powered wheelchairs almost invaluable. Similarly, new technology is allowing patients to manage heart conditions and other illnesses, such as edema, with the elevated leg rests raising the legs above the heart.
At the same time, folding powerchairs have proved a great option for many, with users able to save space and travel better on public transport.
---
Post time: Apr-18-2022